There are hundreds of restaurants in the Springfield-area, and competition is fierce. Our team at Longitude° knows all-too-well the struggles that restaurant owners face to stay in business and thrive – especially locally-owned restaurants.
As a restaurant branding and marketing agency, we do our best to maintain a pulse of the restaurant industry. This means that we make any and all excuses to try great food at great restaurants any chance we get. Plus, we love supporting local eateries as often as we can.
Sadly a large majority of people still opt to support large chain restaurants instead of local businesses. So, in an effort to help promote these incredible local eateries, we've put together a list of better local alternatives to the national chains.
Tater Tots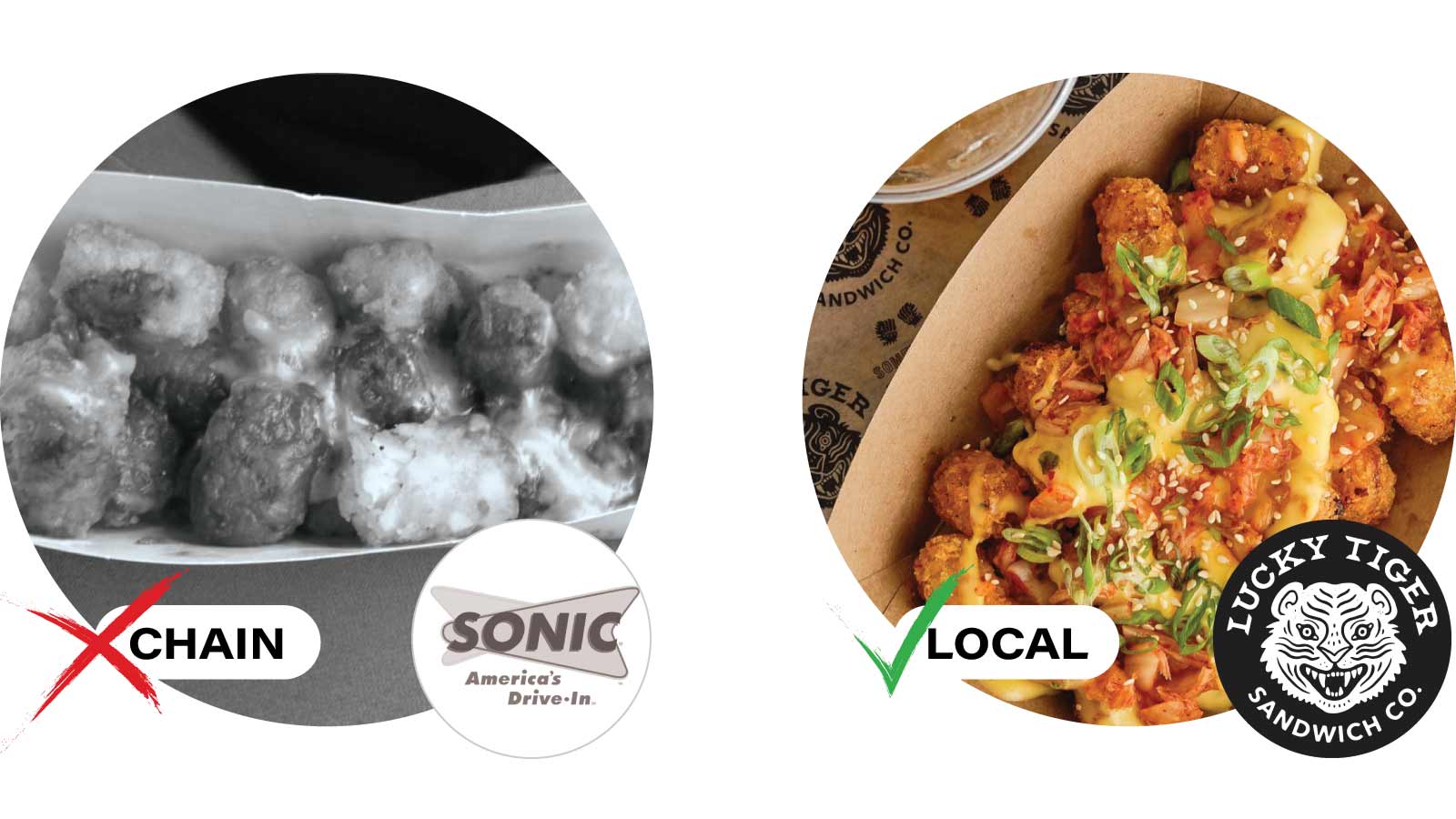 Next time you're tempted to stop in and grab some tots from Sonic, think twice. Did you know that the recently opened Lucky Tiger not only has delicious sandwiches, but they're always serving up the most mouth-watering tater tots this side of the Mississippi? Give this quirky and fun sandwich shop a try, and be sure to ask for the Kimchi Tots!
Lucky Tiger Sandwich Co. | Best Tots (and sandwiches)
Tacos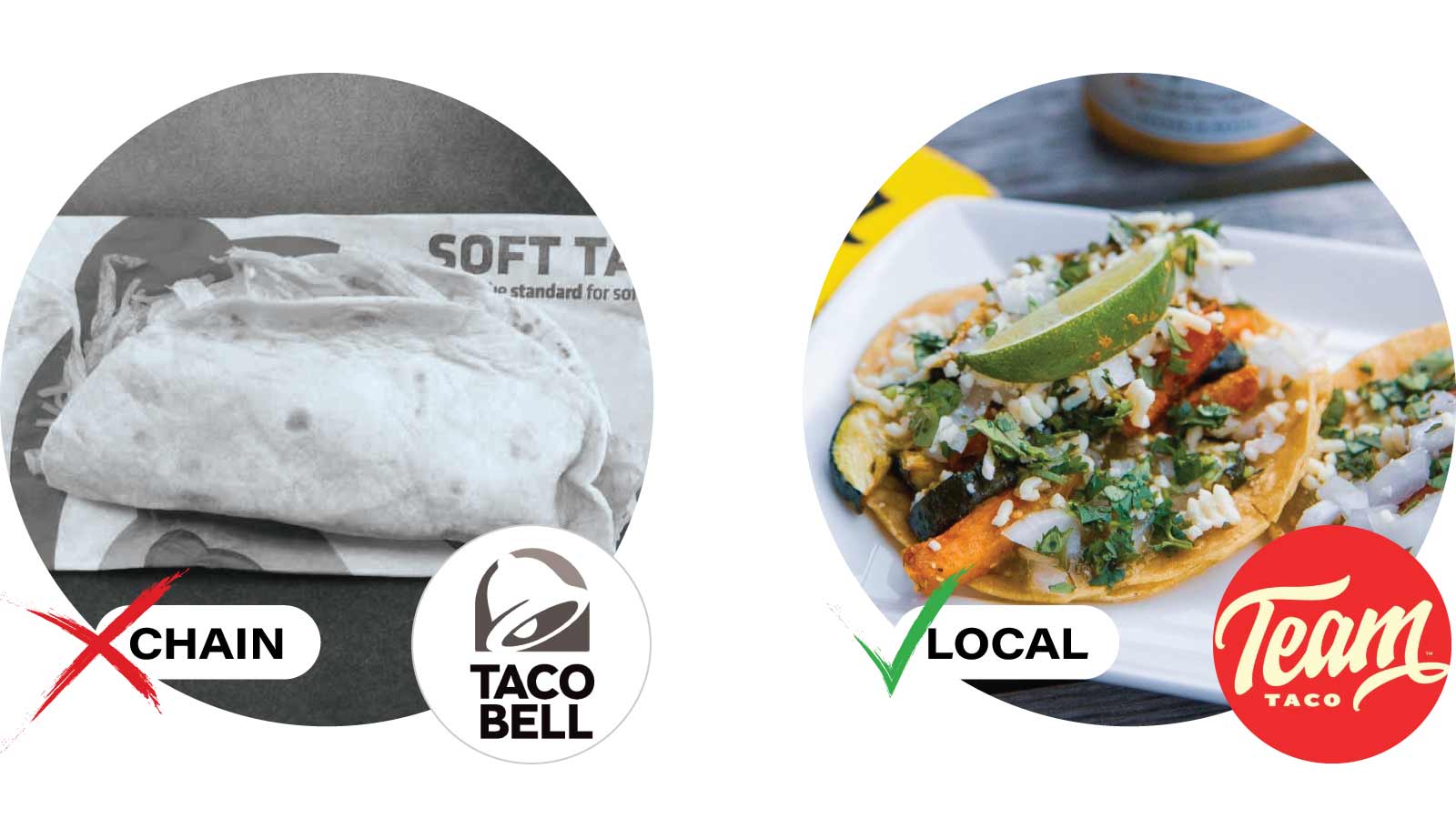 Why eat a bland, soggy taco from Taco Bell when you can stop into Team Taco just off of Cherry and Pickwick Street in the historic Rountree neighborhood. The taste of these tacos is second to none, and their ingredients are high-quality, unique, and the atmosphere is so fun and light. Definitely check them out. We recommend ordering the "B.A. Baracus" or the "Globetrotter." Yo quiero Team Taco?
Team Taco | Best Tacos
Chicken Wings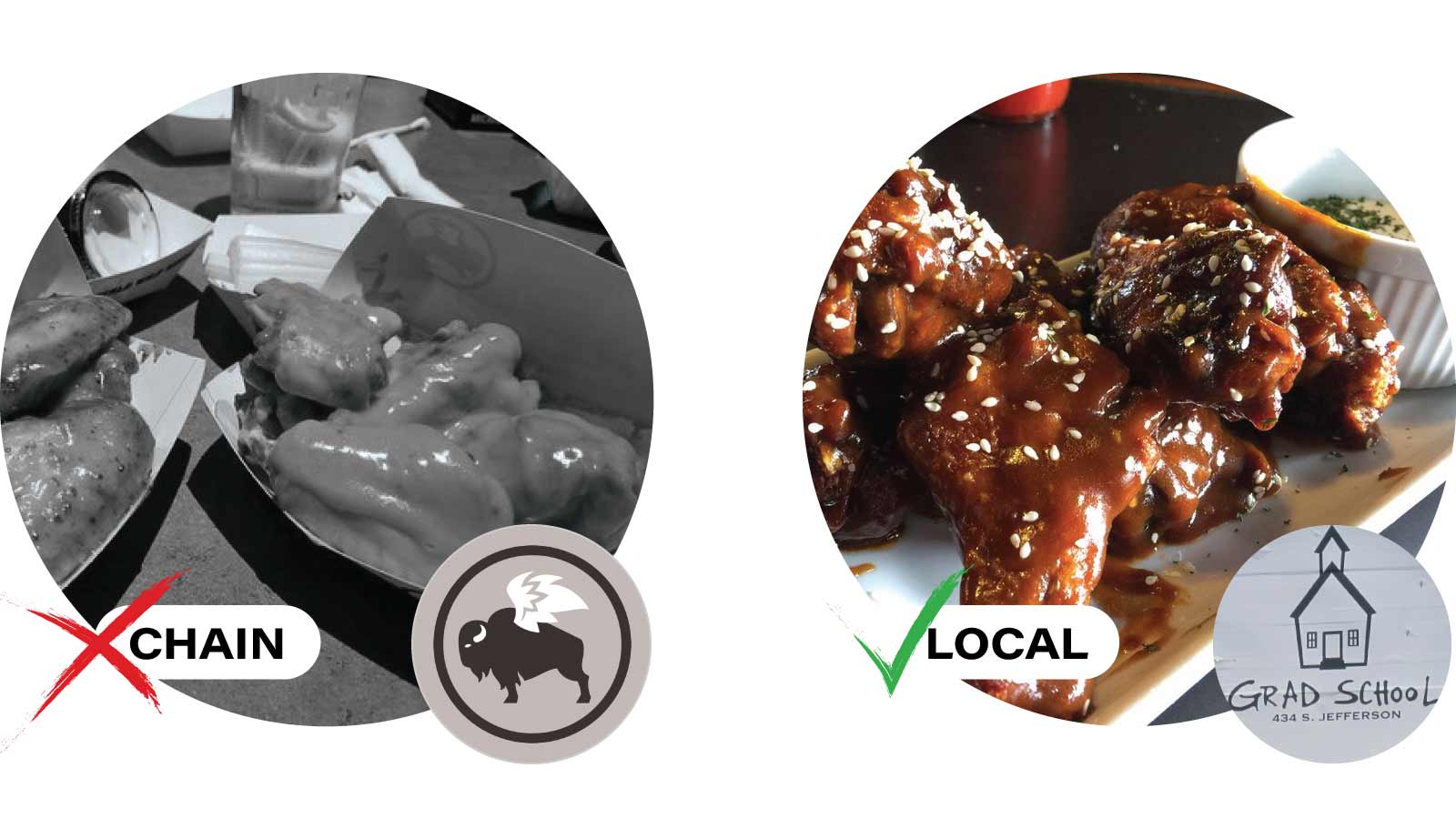 Who doesn't like some good wings every now and then? Buffalo Wild Wings may be a good place to watch a game and get cheap wings, but if you're really looking for delicious and quality wings, look no further than Grad School. This small local restaurant serves up some of the best wings in the area. Try out the "House Hot Toddies"… your taste buds will thank you later.
Grad School | Best Chicken Wings
Gyros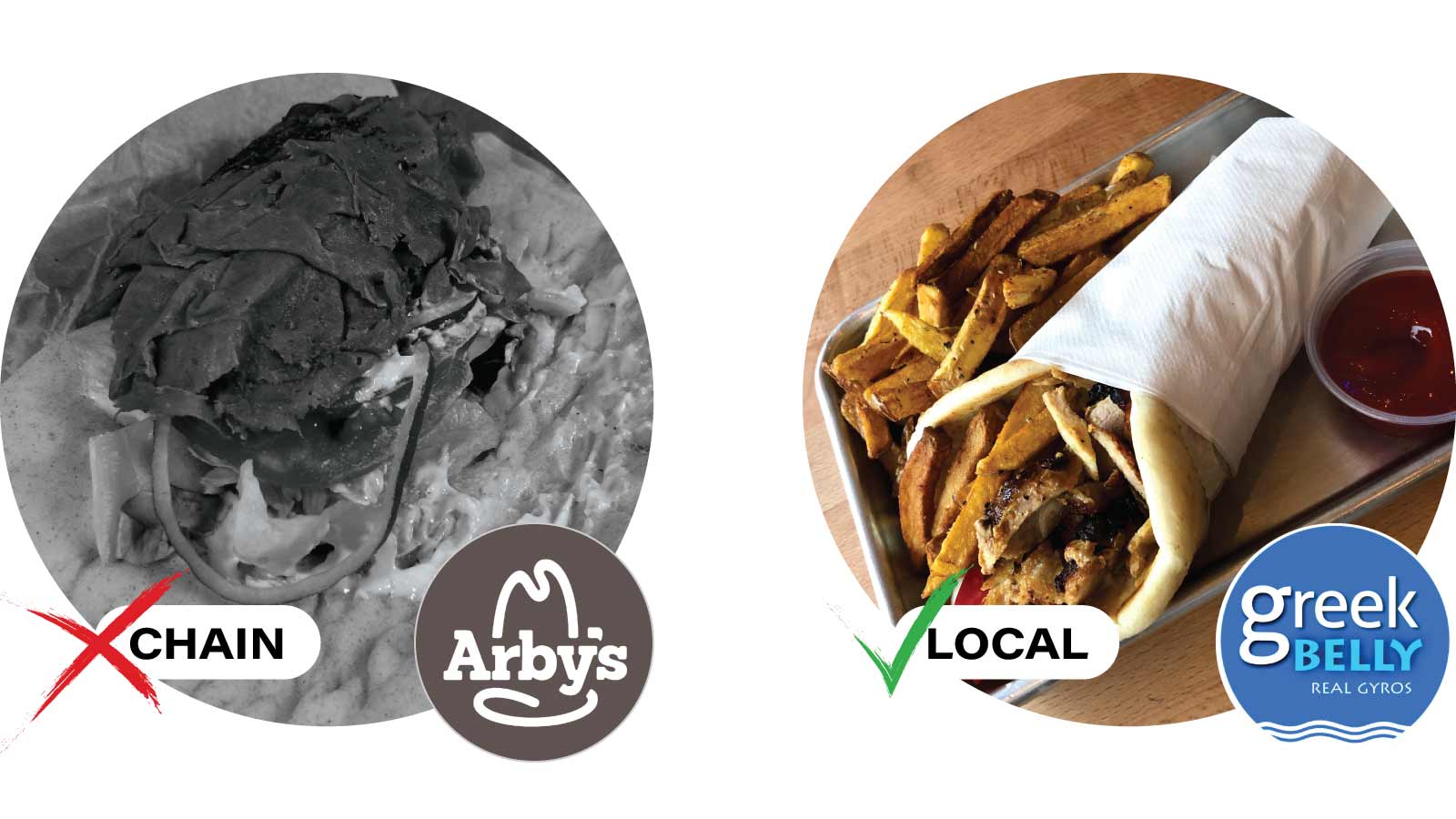 We were shocked to find out that Arby's served a "gyro," but equally shocked to learn that people actually ate this when Greek Belly exists! This little restaurant located on Walnut St. in downtown Springfield has the perfect atmosphere to make you feel like you walked right into an authentic Greek restaurant in the heart of Greece. Try the Gyro Pita Wrap with Tzatziki – it's our favorite!
Greek Belly | Best Gyros
Pancakes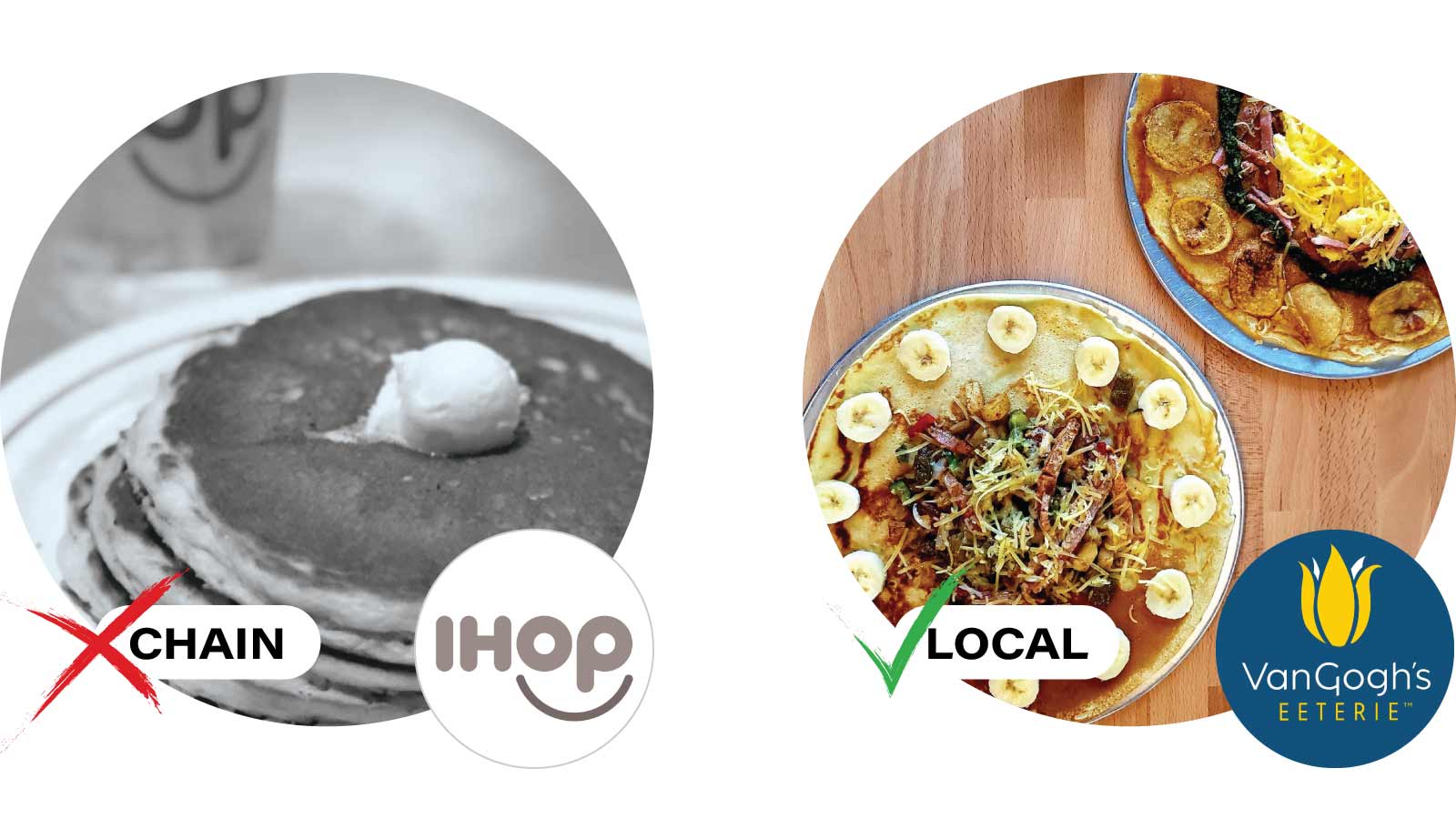 Is IHOP still a thing? We get it, their pancakes are good at 1:00 AM in the morning when nothing else is open, but are they really that good? Next time you're hungry for pancakes stop into Van Gogh's Eeterie on Historic Commercial Street. They serve up the most perfect Dutch pancakes; making IHOP's pancakes pale in comparison. Also, they serve breakfast all day, so if you're craving breakfast for dinner they've got you covered.
Van Gogh's Eeterie | Best Pancakes
Chicken Sandwich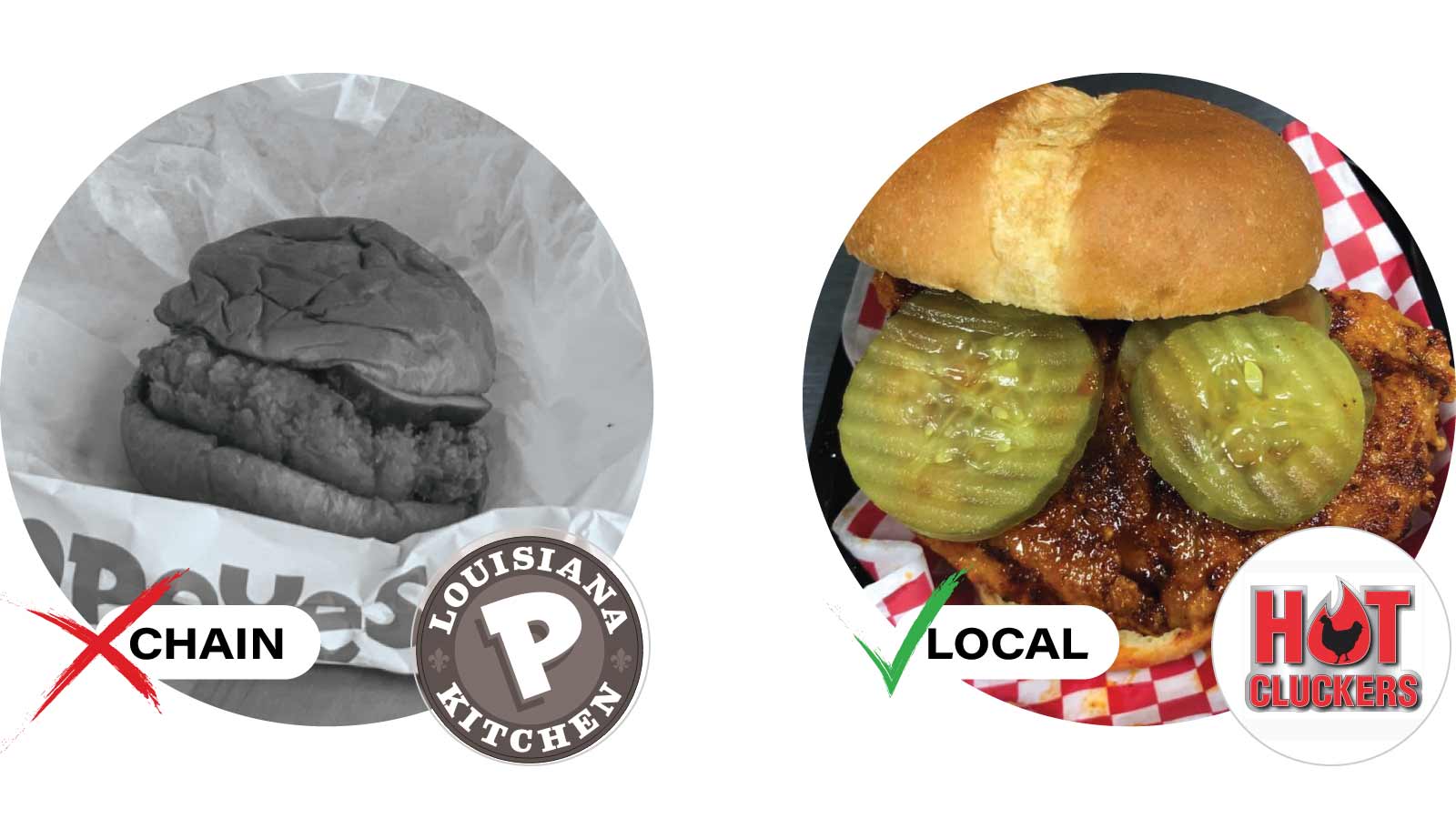 Popeye's and Chick-fi-la recently made headlines with their chicken sandwich feud. But to be quite honest, neither compares to a Spicy Chicken Sandwich from Hot Clucker's. This "Nashville Style" hot chicken joint will leave you wanting more. They have four spiciness levels: The Nancy, 1 Cluck, 2 Clucks, and "Hot Mother Clucker." Beware of "Hot Mother Clucker" unless you enjoy pain.
Hot Clucker's | Best Chicken Sandwich
Cheeseburger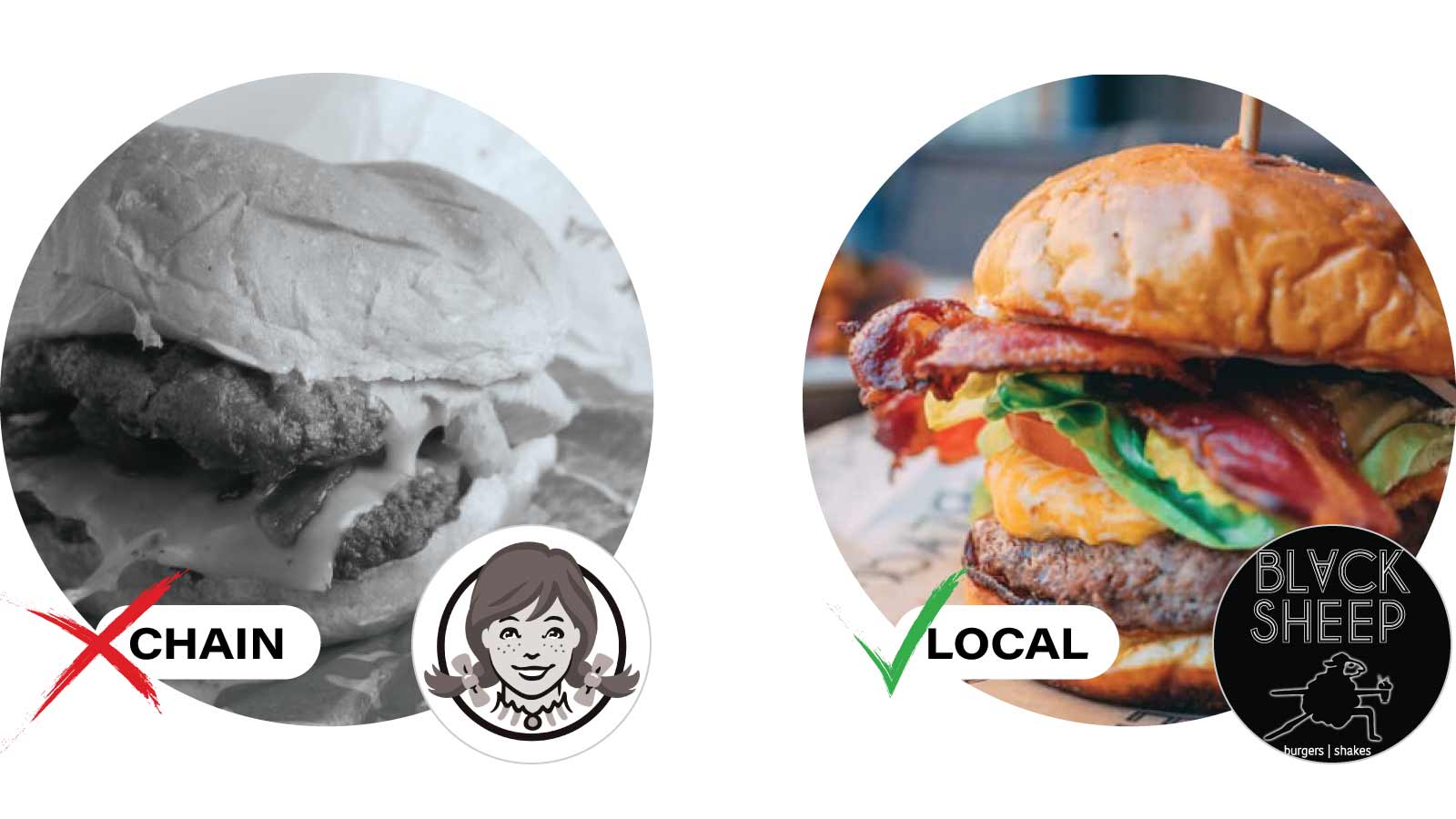 Don't get us wrong, we like a Wendy's burger every now and then, but it's nowhere near the same level as a Black Sheep burger. These mouth-watering, flavorful, and juicy burgers will go down well with a boozy-shake and some salt-and-vinegar fries – our favorite. Not to mention, now with 3 locations in Springfield, it's super convenient.
Black Sheep Burgers + Shakes | Best Burgers
Breakfast Burrito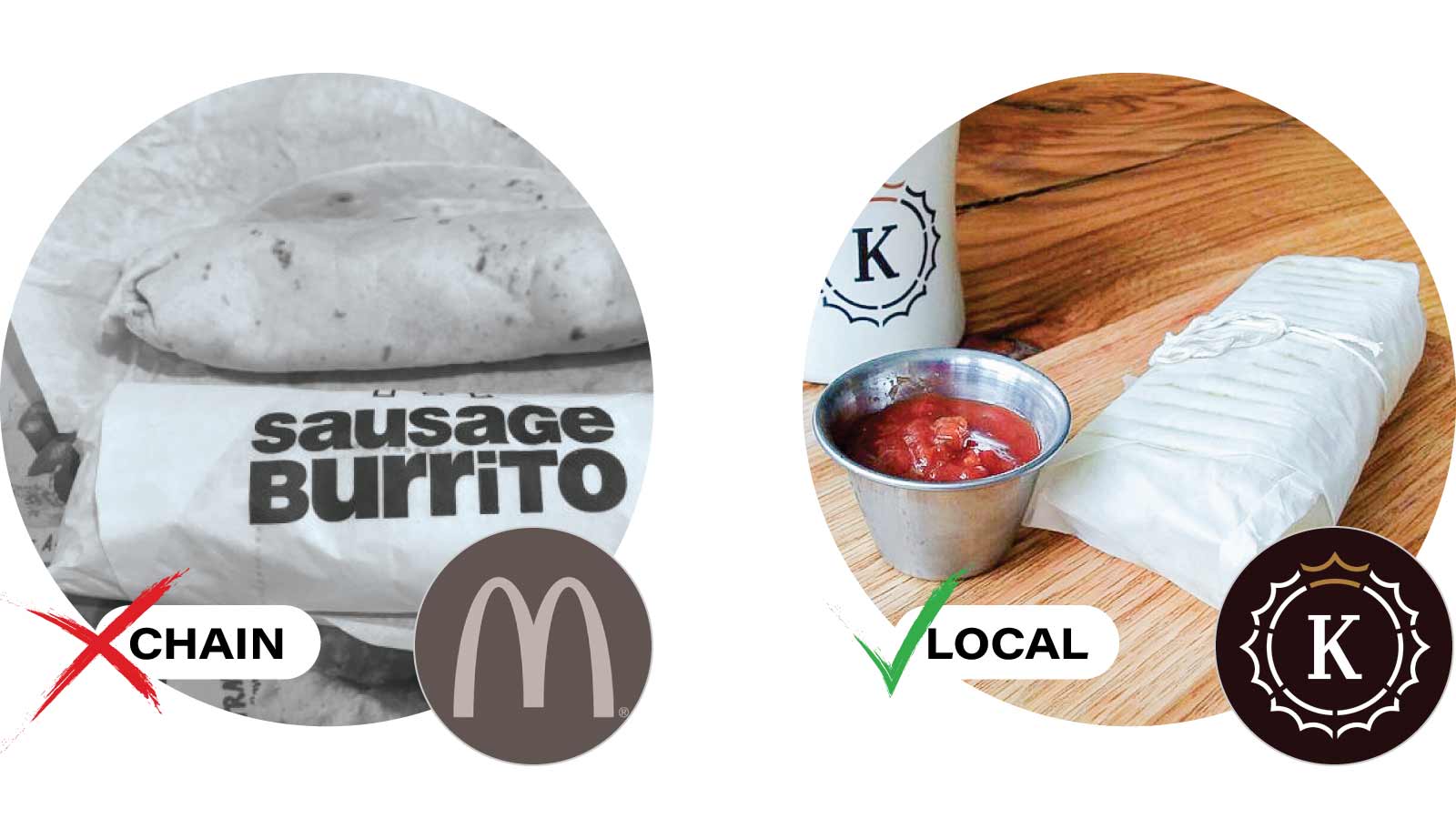 Thinking of stopping at McDonald's for a breakfast burrito and coffee? Think again! Instead, you should make a quick detour to Kingdom Coffee for their breakfast burrito. You can get a bacon or potato burrito, and it comes with a side of salsa. This thing will seriously fill you up. And you might as well get one of the best cups of coffee in town while you're there.
Kingdom Coffee | Best Breakfast Burritos (and coffee)
Support Local
Don't get us wrong, it's not a bad thing to visit a chain restaurant, but we hope that you consider supporting local businesses on a more regular basis. Not only are you supporting your neighbors, but you're also likely to enjoy higher quality ingredients and better taste.
We hope this list was fun and informative. If you enjoyed this, drop us a line at info@longitudebranding.com. Thanks!