The Sweetest Treats of 417-Land
December 11, 2019
Billy Dove
We all have that craving from time to time. The urge to indulge in something cold and creamy or warm and covered in frosting. Springfield has quite the selection to help cure that sweet tooth. Everything from cakes and pies to gelato and chocolate-covered candies. Here are some of the sweetest places in the 417 to get your fix!
Maes Gelateria
Maes Gelateria has been dishing out the creamy Italian dessert since it opened its doors back in 2016. With two locations Springfield, they are serving up 22 different flavors of gelato, 4 different flavors of Sorbet and 5 different variations of Dolce waffles (a sweet caramelized dessert waffle covered with your favorite topping). In the land of frozen custard, Maes Gelateria will surely be your new favorite cold treat in town!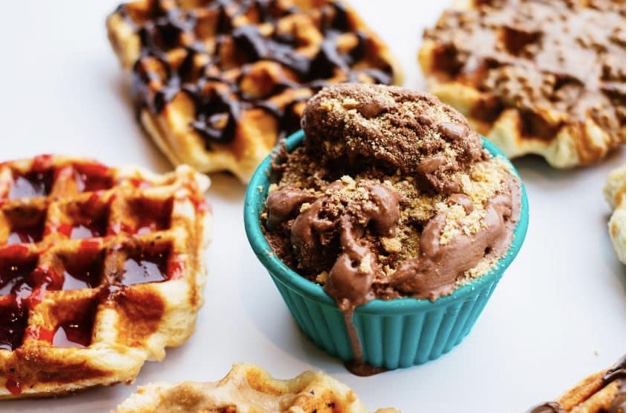 Prairie Pie
The holidays are upon us and a staple at everyone's feast always includes pie. Located out of Vito's Kitchen in downtown Springfield, Eleanor Taylor is crafting handmade pies using seasonal and local ingredients. They offer a wide variety of flavors in 10-inch full-size pies or even mini pies. She is making everything from chocolate custard, cinnamon buttermilk, and my personal favorite sea salt and honey! You can order Prairie pie from their website or in select locations in Springfield.
Tea Bar and Bites
Nestled in the thriving Rountree neighborhood, Tea Bar and Bites has been serving up a menu of sandwiches, salads, and quiche since 2004. But let us not forget about the most important part of lunch or dinner, dessert! Tea bar has a collection of baked goods that will put you in dessert euphoria! They are offering gluten-free pie bars, fresh baked muffins and scones, lemon bars that are to die for and caramel covered cinnamon rolls! So, make sure to check out the dessert cabinet when getting there, it might just turn into a dessert-only day!
Bon Bon's Candy House
Got a sweet tooth but can't make up your mind on one thing to cure it with? Head over to Bonbon's Candy House in the Brentwood Center! It is next to impossible to not find something to treat yourself here! They have everything from caramel-dipped apples, truffles, 48 different flavors of Jelly Belly jelly beans and even 40 different flavors of saltwater taffy! At Bonbon's Candy house, you can truly experience what it's like to be a "kid in a candy store!"
European Café
If you're looking for an escape from the norm to fulfill your tasty pastry cravings you should check out the fare at European Café. Located on Park Central Square in downtown Springfield, they are offering many different options worth trying. They have a collection of tarts that are almost too gorgeous to even eat! From the Cherry Chocolate Mousse Cake to the Lemon Tart, you will want to spend just as much time reveling in its beauty and taking pictures as you will spend eating them! If macarons are calling your name, there is a nice selection to choose from every day. So, enjoy a nice espresso or hot chocolate and indulge oneself!
Billy Dove
Owner @ 417Foodist
Billy is a food blogger and creator of 417 foodist on Instagram and Facebook. He showcases local restaurants from Springfield, MO and the surrounding areas in the 417 area code.